antennaPRO, New company, Same Quality and Service!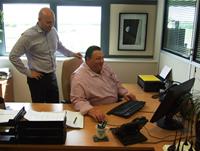 antennaPRO has now been trading for three weeks and we are very appreciative of your understanding and support about the change in our corporate identity. We are also pleased that our message of 'business as usual' has been received and that we continue to offer the following services: - Access to our well stocked warehouse
- Free Antenna Tuning
- Next day delivery on most product lines.
- Help with bespoke technical enquires. So if you have any enquires, come and speak to our experienced team. That's me Michael Hudson, Gill Neighbour and Matt Luckhurst for advice in sales and design and Paul Proudfoot and Tony for service, setup and repairs. We remain PROCOM's UK distributor here at antennaPRO and are at your service for the sales, support, technical backup and repair of PROCOM products! 10/05/2015