Sign up to the antennaPRO E-Newsletter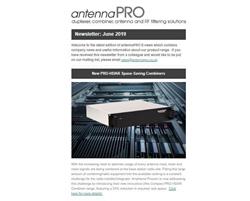 We recently published our latest email newsletter. The newsletter contained a summary of our latest company news and useful information about our product range.
You can view this newsletter by clicking on this link:
antennaPRO E-News : June 2019
There is always plenty of things going on behind the scenes at antennaPRO, so if you want to be kept up to date with news of our latest products and sales initiatives,
please fill out your details here.
Alternatively, you can send your details to
sales@antennapro.co.uk
and we will add them to our mailing list. 17/06/2019