Procom announce a new Ultra Wideband Omindirectional low profile DAS indoor antenna.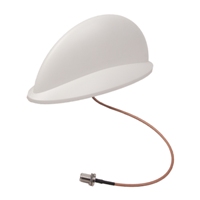 The new UWB-I 380-6000 is capable of supporting TETRA, GSM, PCS, LDMA, UMTS, WiFi 2.4 and 5.6GHz, 4G LTE and WiMax. With a discreet ceiling mount design this multiband antenna is suitable for hotels, shopping centres, stadiums, hospitals, airports etc. - Frequency: 380 – 6000MHz.
- Max Power: 50 Watts.
- Temp Range: -30°C - +70°C
- Height: 146mm
- Width: 107mm
- Depth: 325mm
- Weight: Approx 600g.
- Connector: N-female.
04/09/2014