Procom Introduce New Distributed Antenna Systems (DAS)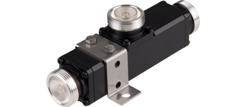 Procom have recently introduced some new Distributed Antenna Systems (DAS) components to their wide portfolio of RF products.
Tapper
The PRO-TAP 380-2700 is a Multiband tapper covering the 380-2700MHz band with excellent high power performance coupled with low insertion loss over the entire frequency range. - 500WPower
- 6, 10 and 20 dB Coupling.
PRO-TAP 380-2700
Power tappers are devices that tap off a portion of the signal while allowing the rest of the signal to pass through with a minimum of loss. Tappers operate similar to directional couplers but without the directivity and have relatively broad bandwidths. Tappers are used where small coupling values are not required. - Low VSWR on Input/Output ports.
- No directivity.
- Coupled port must be terminated.
- Wide bandwidth.
- High Power.
- Accurate coupling values.
Directional Couplers
A new range of Directional Couplers are also introduced which give isolation between outputs along with directivity. - Covering between 80-140, 112-200, 200-300, 300-400, 380-430, 380-470, 300-1000 and 800- 2500MHz.
- Coupling 10,20,30dB.
Procom Directional Couplers
Couplers are used when small coupling values and isolation between outputs is required. - Low VSWR on all ports.
- Directivity.
- Isolation between outputs.
- Moderate bandwidth.
- High Power.
- Rippling in coupling value over frequency. 31/10/2013