Procom A/S, ISO 9001:2008 Certified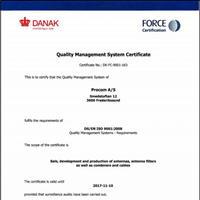 We are pleased to announce that Procom is now ISO 9001:2008 certified for its quality management system. The achievement demonstrates Procom's commitment to providing the highest quality products and services. The certification is also a significant milestone in our continual efforts to improve and reflect its on-going investment in technology, development and process management.
What is DS/EN ISO 9001:2008?
The ISO 9000 family of standards is concerned with quality management, and what a particular organization does meet and enhance customer satisfaction by improvements to its management processes. For more information on ISO 9001, visit the International Organization for Standardization's website.
What does that mean for you?
The ISO 9001:2008 standard means to guarantee that all PROCOM processes, documentation and improvements of our service meet the given requirements. So customers can expect a constant and high level of reliability and transparency from its work." 10/04/2015