New Cabling Point of Sale (POS) from antennaPRO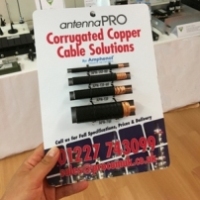 To coincide with the launch of the sale of our new range of cable products for professional communication systems, we are delighted to offer this great Point of Sale (POS) which attractively showcases some of the various cabling products …it also shows their great quality. The cables are manufactured by Amphenol Private Networks, a leading global developer and manufacturer. • An extensive portfolio of high quality, low loss foam dielectric corrugated copper cables.
• A wide range of high quality connectors and cable assemblies.
• Professional cables for both indoor and outdoor systems.
• Low PIM, high performance corrugated cables This POS can be hung on a wall or can be conveniently kept handy on a counter of desk to demonstrate the quality of the cabling. Your should have received one of these POS boards already. However if you haven't, contact our sales team on +44(0)1227 743099 or via email at
sales@procomuk.co.uk
. 24/11/2017