Introducing the Amphenol Procom Marine Antenna Range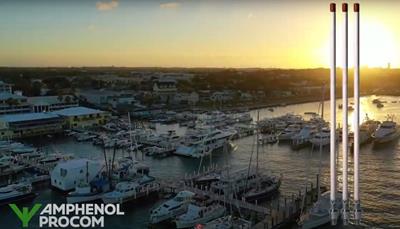 Amphenol Procom's range of marine antennas has an enviable reputation for their high-quality manufacture and superb performance.
Its marine antenna range includes MF/HF frequencies through to Wi-Fi and above. Amphenol Procom's marine antennas are specifically designed to cope with the high demands of a marine environment, including salt-water spray, ship vibrations and extreme wind loads. Designed by experienced engineers focusing on the professional user, the antennas are of sturdy construction manufactured using only the highest-quality materials and workmanship. Paired with an extensive Quality Assurance programme ensures a consistently high-performing product with excellent electrical & mechanical parameters. Through many years of testing and product evolution, Amphenol Procom antennas have proven their strength and functionality with mariners worldwide. The Amphenol Procom maritime product range is extensive and include base atation antennas, mobile antennas as well as combiners, RF filters and different other components. Products are used across Oil rigs, Yacht's, Commercial vessels, Search and Rescue (SAR) boats, Cruise ships, PMR, and Public Safety both onshore and offshore. Some of our popular marine antennas include: •
MA 2-1 SC Marine VHF Antenna with Low Weight and Wind Load for Masthead
.
•
CX 2-1/ Base Station and Marine VHF Antenna
.
•
CXL 2-1LW/ Universal, Unity-Gain Base Station and Marine Antenna for the 160 MHz Band
.
•
MA2-1SC-SHT Marine VHF Antenna with reduced height
.
•
RX 5000 Self-Supporting Wide-Band Receiving Whip Antenna for the LF, MF and HF Bands
.
•
HF 5000 5 m Self-Supporting MF/HF Transmitting Antenna for Mast Mounting
.
•
HF 7500-3 HF Antenna (7.5 m Self-Supporting MF/HF Transmitting Antenna for Mast Mounting)
. To view the full Amphenol Procom maritime range,
click here
. If you can't find what you are looking for there, contact our team on 01227 743099 or email
sales@antennapro.co.uk
. 04/10/2021